I am rolling, rolling rolling closer and closer to Baxter Springs. Toward Ruth Ann and Lynn in their cut off britches and skinny little halters, but something our of the corner of my eye catches, makes me look and it is...
Kansas.
On this fine spring morning Kansas glistened, sparkled, shone like a Norman Rockwell. You could smell the earth. You could taste Middle America. And it was good. Kansas had many many little towns with past prime facades. Had gas stations with just a cement pad near the pumps. Had teenage girls on cell phones, laughing and talking about who is doing what and why and why not and more giggles.
Kansas seemed to be a nice place. It just had a good feel to it and what started as a spur on the route to find those Rolling Stones lips turned into something more. Something more gentle and something sweeter.
Kansas was green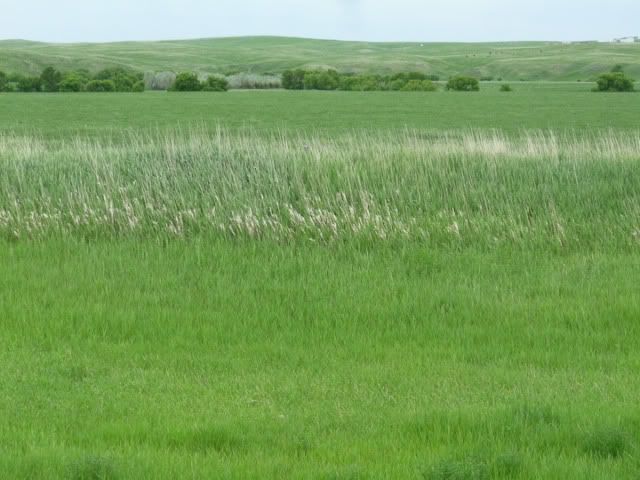 Kansas was blue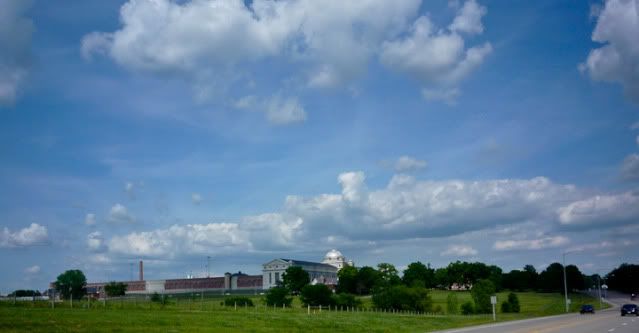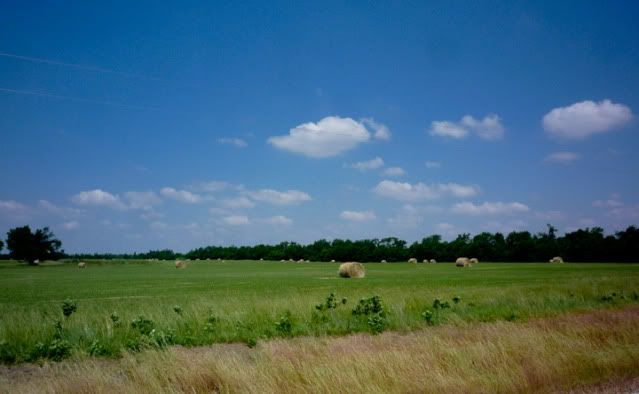 and Kansas was gold
At least the part of Kansas I saw--on State 7 going south.
I get to Baxter Springs, keeping my eye out for Ruth Ann and Lynn, but they are not to be found.
No cut off britches.
No skinny little halters
And I looked and looked and looked, but found no biker bar on main street.
No Lingerie Shop
No Rolling Stones Lips
In fact the only oral reference I saw was this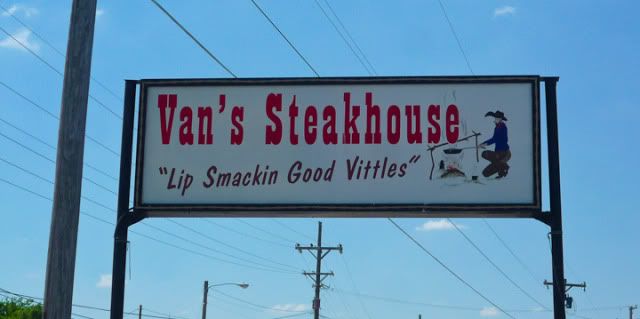 There were a couple of murals, but they were not of the hell raisin' variety, pretty subdued really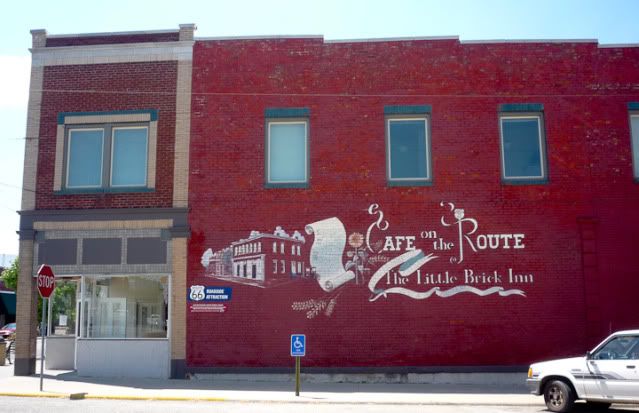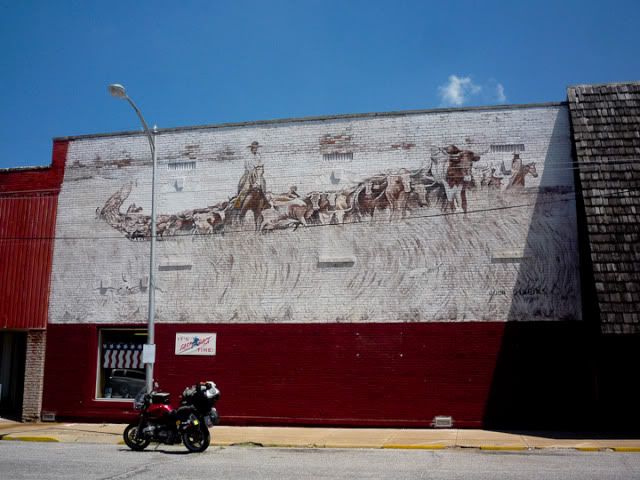 What, up, James McMurtry? Were you using that most nefarious of descriptions? "Poetic License?" Oh, Man.
But going to Baxter Springs did get me to a part of the country that surprised and was beautiful in its own way, so thanks, JM. But Ruth Ann and Lynn will live on in my memory.
From here it was high-tailing it home. The Southwestern corner of Missouri did not have the charm of Kansas, to me, and the roads in Arkansas were much more fun...and very familiar now--fourth time there I think.
I rocketed down 23, the Pig Trail and this was the first time I saw it in summer greenery. Stopped at Turner's store, y'all know the drill there, and if you don't, discover it.
I stopped that night in Daisy State Park
and the next morning did a day long ride home
The trip was finished in all but memory--and working the photos; but it was a blast
There were some insights along the way that will and have helped me with my work, and the Shiprock Peace lingers.
I was gone 21 days, just under 6300 miles, and every moment was an adventure. No journey this--whatever that means.
I had returned to my real journey.
Hope I have been able to share some of the joys of this trip of Stella! and me, Out West.
Later
John