VINCENT
So if you're quitting the life, what'll you do?
JULES
That's what I've been sitting here contemplating.
First, I'm gonna deliver this case to Marsellus.
Then, basically, I'm gonna walk the earth.
VINCENT
What do you mean, walk the earth?
JULES
You know, like Caine in "KUNG FU."
Just walk from town to town, meet people, get in adventures.
VINCENT
How long do you intend to walk the earth?
JULES
Until God puts me where he want me to be.
VINCENT
What if he never does?
JULES
If it takes forever, I'll wait forever.
VINCENT
So you decided to be a bum?
JULES
I'll just be Jules, Vincent – no more, no less.
There are those who ask, "Mary Anne or Ginger?" or "Bert or Ernie?" But, I ask, "Jules or Vincent?"
This dialogue exposes the conflict between those who do solo rides and those who cannot understand the appeal. The gulf is broad and only rarely is bridged.
Jules continues, " I was just sitting here drinking my coffee, eating my muffin, playin' the incident in my head, when I had what alcoholics refer to as a "moment of clarity."
A moment of clarity, we've all had them, when suddenly answers fall from the sky, perplexity is simplified and the way is clear. Moments of clarity come at the most unexpected times, but mostly when one is alone doing something mindless and repetitive, but the answers or the directions or the muse can be startling.
Mine came during the decision process involving a piece of real estate, but that's not important. The important thing is that it came. And it directed me to undertake not one, but two solo journeys., something I had never attempted, something I always wanted to do, something that always had some very good reason to prevent it. But I knew, I realized, I saw that these two journeys were important enough to hurdle all the good reasons to avoid them.
I read ride reports from solo travelers and one thing unified their journeys:
a sense of purpose.
Their routes, their plans, their adventures differed, but their purpose, even if questioned along the way, was there. And that purpose was Adventure. Adventure as defined by Cook, Lewis and Clark, James T. Kirk, and Jules.
A plan arose. The second trip would be the big one, a Great American Ride, and the first no slouch, a shakedown ride to test myself and my preparations and to see if I knew what the hell I was talking about.
Colorado in late September would be the shakedown. Camping the preferred mode of lodging, and alone.
Ride reports of others were closely followed and an itinerary was made. Of course I knew that it would not be set in stone, but in order to serve as a guide, it was there.
Equipment and food purchases, bike readying, all done. People, the Vincents, of course, thought this was nuts.
Won't you get lonely? No
Are you taking a gun? No.
How long are you going to be gone? As long as two weeks—wound up 15 days
Are you meeting anyone? No.
Why are you doing this? I am seeking clarity—quoting Jules, and I would get a "hunh?"
Fast forward—I don't know if I found clarity (well, in one sense I did) but I find something else. And lost something also. You just never know how these things are going to turn out.
I think they really didn't believe I would do it and, in truth, as the day drew closer I did become more anxious about the whole thing. My greatest fear was bears; that turned out to be a non issue.
Anyway the day grew nearer and nearer to departure and then was here.
D Day, Put up or shut up, time for the rubber to meet the road.
I left after work mid day Sept 20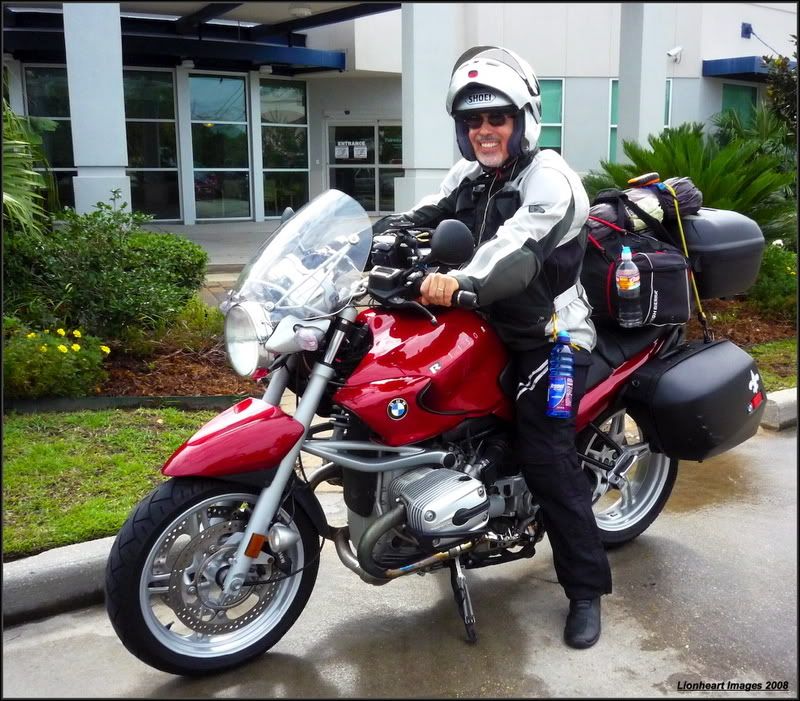 And my going away party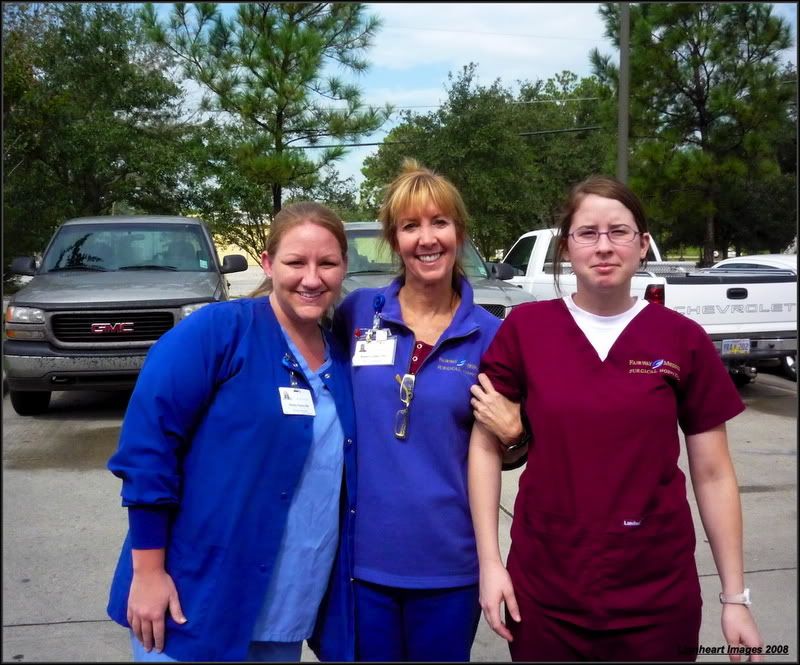 Traveling across South Louisiana is the pits, but hey, it's home and I had to get out. Unfortunately for me, as I was moving out the lovebugs were moving in from Texas.
I am responsible for the ignominious deaths of hundreds of the red eyed beasts. Lovebugs are pretty strange creatures, traveling in pairs, no shame, openly lustful, and when they finally met me it would turn out that they mated for life.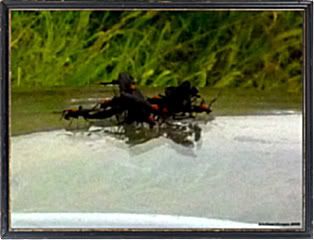 Sorry for the lack of quality but this is my windscreen. The lovebugs seen congregated here seemed to be either mourning their dead or conspiring revenge. This was just outside of Opelousas, La. "Opelousas" is a Choctaw word which, roughly translated means "Get me the f--- out of here. I don't like lovebugs and pass the Tabasco, please." It was cloudy and gray, a good day for lovebugs to die and many, many died that day.
Beyond Opelousas is a town called Elton. Even the casual traveler though Elton must be puzzled by the seaminess of such a small town. One-Eyed Jacks—no minors; no weapons, and Neptune's are the gathering places of who? There are 1261 souls in Elton. Are weapons really a problem? Elton is the kind of town where all signs are hand painted, poorly. Maybe Elton suffers by comparison to its more affluent neighbors, Eunice, and Opelousas, and Rayne, and Basile, and Kinder, all part of the Elton megalopolis. Maybe. But the lovebugs seemed to like it there. And they had no weapons.
A quick stop in Longville for gas and to try to clean off the carcasses and this conversation
Cashier: The lovebugs are bad
Me: they sure are!
Cashier: Did you eat any?
Me: (didn't think of that and trying to give an honest thoughtful answer) No, but they fly up into my helmet and the feel like drops of water hitting my face!
Cashier: (grins and laughs) They say they're worse in East Texas.
Me: Great. That's where I am headed.
As it turns out they were not worse in East Texas, only just as bad.
Ok flash moment from work: On a scale from 1 to 10 where 1 is no pain and 10 is the worst pain you can imagine, how would you rate your pain. Almost invariably the answer is a 10—just an fyi, anything 8 and above involves an anvil. So on a scale of 1 to 10 where 1 is no lovebugs and 10 is so many that ACORN is registering them to vote, where would you rate the lovebugs—about a 7.
They were awful.
They smell.
Their acid black bodies eat painted surfaces and they are not small, about an inch or so when coupled. But their numbers were ending and my trip would continue.
I arrived in College Station to spend the night with a friend and it hit me.
I knew the major part of my diet for a while would be CLIF bars and Mary Jane Farms foods. I wanted red meat for the road.
Outside of College Station is a well-known steak house in Sommerville, Texas—not the place in Snook, Texas, famous for their Chicken Fried Bacon---the other one. Story goes that one is run by the husband and the other is run by his ex wife. But I digress.
We were finishing our rib-eyes (very good, no food pictures, get the garlic sauce) when an obviously biker couple strode in and sat down. All in leather, with fringe, my friend asked what they rode, as if we couldn't guess.
That's my Road King outside.
Oh, well I have a Sportster and I ride an ST 1300. My friend (me) has a BMW.
His eyes lit up and he said: Oh you can ride those cross country.
And I got to say, slowly and with a grin:
"That's what I am doing,"
and, when I said that it really sunk in that I was actually doing that, riding cross country, solo.
Pride or hubris swelled.
And I also felt the bit of trepidation, the what ifs. But those, I realized are going to always be there. Get over it. And by the next morning I was really on my way, crossing the great state of Texas on backroads.
To be continued*********************************